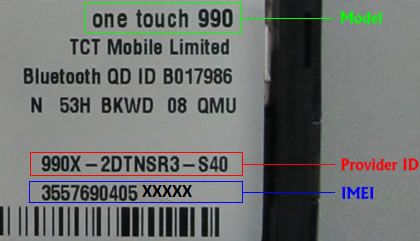 ID provider is a special type of sequence used to determine system version and the country of your device.
It is required to unlock the network blockade from Alcatel. Based on the IMEI number and ID provider you can receive correct unlock codes.
ID provider can be found on the stikcer of your device, under the battery.
In the new models there is no way to remove the battery. In these models the following instruction is required.
- use the provided link
ID provider and network check for Alcatel
- enter the
IMEI
number.
- after a few seconds you will receive a result containing the ID provider.
Example
IMEI: 0133370013xxxxx
Provider ID: 875T-2ATBUS1-R
Model: MiniQ 3G
Production Date: 2013-09-19
Color: BLACK+RAVEN